Fall in Washington may be the best time of the year to visit the western tip of the continental US. Temperatures are mild, the tourists are fewer, and the places to explore are abundant. But, of course, let's not forget about the amazing colors all around the area.
Be in awe of the colors of Fall.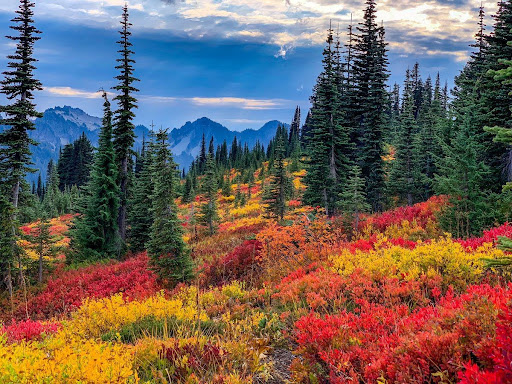 Although our unofficial nickname is the "Evergreen State," Washington is waiting to surprise its residents and visitors every fall, showing off its coat of many colors through all the leafy trees that grow abundantly in the Pacific Northwest climate. Maples, aspens, ash, and larch are some of the few species in the area whose leaves change to rich yellows and golds, deep oranges and fiery reds, and hypnotic purples, ensuring a wide range of shades in every direction.
Scenic drives, endless trails, and an abundance of parks are some of the best ways to experience the symphony of colors through this ecstatic moment of change. Mount Rainier, Snoqualmie, and Olympic National Parks are one of our favorite areas to immerse ourselves in the prime of fall. The lush forest and colorful trails will have you believing in folk tales.
There's also the Olympic Peninsula, with hidden gems like Moclips beach offering a peaceful atmosphere for strolling the beach, enjoying a campfire, or storm watching.
Go Hiking
Hiking in Washington State is a year-round activity, but fall is a favorite time for many local adventurers and travelers from all over the world. Blue skies contrast the vibrant colors of fall, crisp and clear air sooth each step, and the sight of vibrant natural life against the rich evergreens is a must-see in person.
The list of Washington hikes is almost endless, and there is something for every level. Be sure to go to the Washington Trails Association website to pick a hike that is suitable for you and also check out the conditions.
Some fall favorites are: Rattlesnake Ledge for an easy hike with a spectacular view at the end, Mount Baker for several trails showing off fall foliage and mountain scenery, the Golden Gate Loop at Mount Rainier offers colorful meadows and stands of trees, and Loowit Falls on Mount St Helens is an excellent choice for a challenging but very rewarding full-day hike.

Pumpkin Patches, Mazes, and Haunted Houses
What's fall without the eeriness of pumpkin patches, corn mazes, and haunted houses? With some serious patches all over the state, visitors of the coastal region can still experience the spooktober activity when they visit the western counties. Sequim pumpkin patch in Clallam County lets visitors run through the maze until 9 pm, and a lantern is a must! Chapman farms in another local favorite.
Take a look at ParentMap.com for a great list of pumpkin patches.
The USA celebrates Halloween in a big way, and Washington is no exception. Fright Fest is on at Wild Waves & Enchanted Village every Friday and Saturday in October. Enjoy haunted houses, a haunted trail, and rides in the dark.
Visit Olympic National Park
With the arrival of fall, most people think of the PNW as a never-ending rainfall. But one of America's most popular wilderness areas thrives with an eclectic mix of vibrant foliage, moss-covered firs, and true adventure. Just a few hours away from the hustle and bustle of Seattle, a natural rainforest awaits. The coastal line with jaw-dropping beaches, once filled with summer travelers, is now empty and tranquil. Panoramic ridgelines and furious waves crashing against them long for visitors. Fall in Olympic National Park is when you need to explore it. It is when the park comes alive, and it is the time of year when those who are lucky enough to visit tumble head-over-heels in love with the scenery of the Pacific Northwest.
With 912 miles of trails to choose from in Olympic National Park and National Forest, finding the perfect trail can be tough. While each and every trail is breathtaking and amazing in its own right, five hikes are far and away from the must-have experiences during the autumn months.
Stay by the ocean

With most people running to warmer temperatures, there's some of us that answer the call of the wild. The Pacific Northwest coastline is considered one of the natural wonders of our world, and we couldn't agree more with such a statement. There is a place where doors open to hear the waves crashing against the rocks and cliffs, where you can feel surrounded by the tranquility of the rainforest, and where you can experience something like no other. So take a chance this season and stay right by the ocean in one of the most loved resorts on the Washington coast: Ocean Crest Resort. It's been adored by families and travelers alike for over 50 years. Indulging their guests with first-row views, ocean-to-table food, and top-rated hospitality. It's an oasis for travelers to enjoy the blissful vibes of the Pacific Northwest. Discover the joy of a place to call home on the Washington Coast and let the tranquility of nature engulf you.